The Centre of Africa
Centre of Africa
Date of Expedition: December 2021
The Centre of Africa is not an easy place to get to. Not only do you need to hack your way through dense jungle, but you have to face many hazards by way of infectious diseases and unfriendly foes who come in many guises.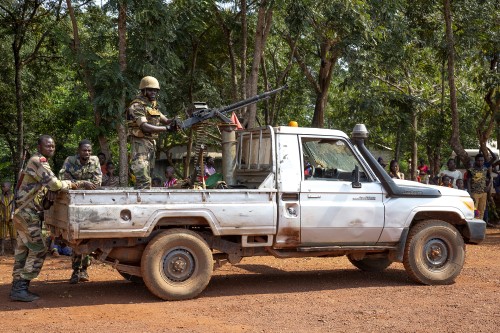 Securing our Airfield in Obo
These include The Wagner Group, ISIS, Anti-government Guerillas, Corrupt Police, Corrupt Army Units, Bandits, Thieves and your regular Evil Warlords to name but a few.
Planning The Expedition
At first sight, the trip to the African Pole of Inaccessibility doesn't seem too difficult. I'd take a regular flight down to the capital, Bangui, hire a car and drive the RN2 (Route National Number 2) to the township of Obo. There I'd overnight at a hotel and the next day drive a track shown on Google maps to a location close to the Pole and travel through the jungle to the pole. Of course, I'd need local help for the last part, but it all seemed so possible.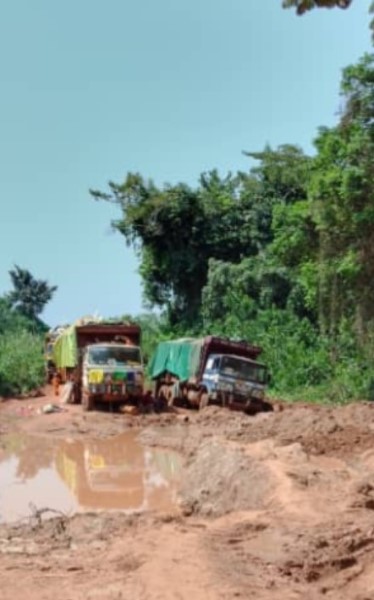 Our fuel trucks on the NR2
Reality dawned as soon as I started researching even the most minor of details, like a hotel or hire car.
The Central African Republic (CAR) is a pretty lawless place. Most governments and organisations advise against all but absolutely essential travel to the country. If you have to go there, they recommend to stay at the airport, which is under United Nations control, or the very centre of Bangui.
Reports of violence, reprisal killings, looting and human rights abuses are common in The Central African Republic.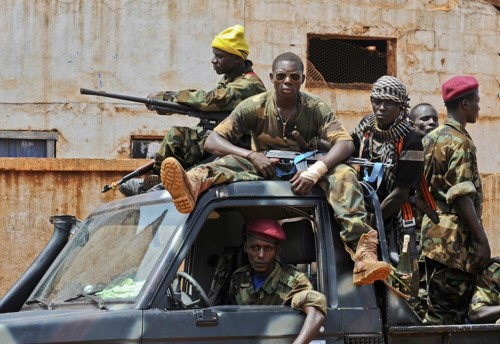 Seleka Fighters in Bangui, the Capital
It didn't take a genius to work out I was going to need some serious assistance.
First port of call were some ex SAS (Special Air Services) regiment guys in the UK via a friend from the Worlds Highest Dinner Party expedition. They sat on the idea for a couple of weeks before declaring themselves out through lack of local knowledge.
Taking the "local" aspect on board, I researched some tour guides who were ex-South African forces. That was another "no" – not local enough.
Essential Items Checklist
| | |
| --- | --- |
| Charter Aircraft from Bangui to Obo | |
| Helicopter at Obo with fuel | |
| Special Forces close protection | |
| Local Government 'fixer' | |
| | |
| --- | --- |
| Radio comms with Helicopter | |
| Armed Protection units from CAR army | |
| Jungle attire allowing fast movement | |
| Comprehensive medical kit | |
A Stroke of Luck
So, what to do? Giving up isn't an option, right?
For other expeditions I've subscribed to a service which will extract you from life-threatening situations in an emergency. My thinking then became, "Well, if I'm injured at, say, the African Pole of Inaccessibility, and call them, they'd find a way to get to me for extraction. And if they can get me out, I could reverse their strategy to get in".
At this point, I had what a lot of expeditions require – a huge stroke of luck.
A dropped an email to the Global Rescue service and received a reply within hours; "call me". That I did and explained very briefly that I wanted to get to a very specific location near a small town in CAR called Obo. The conversation then took a surreal direction which I had a problem fathoming. It turned out the the guy I'd reached had actually 'worked' in Obo and was trying to figure out if I was a wind-up!
It didn't take long to figure out that my new contact, let's call him BooBoo, hadn't just worked in Obo – there isn't exactly a local industry if you don't count 'staying alive'. He had been part of American Special Forces chasing after the Lords Resitance Army. As such he was the perfect person to plan our expedition.
The first idea was to go in via a conservation project called Réserve naturelle de Chinko which would have provided a safe-haven from which to make the final push. However, we were unable to get permissions to use it as a launchpad.
Then, just as we started to search for alternatives, Covid-19 intervened resulting in the expedition being delayed from May 2020 to December 2021. BooBoo didn't waste the whole time, however, and formulated a new plan with a helicopter being brought in from Kenya, via Uganda and South Sudan.
The issue with the new plan was that all flights over CAR territory require government permission and have to originate in Bangui. Thus, we needed a government 'fixer'.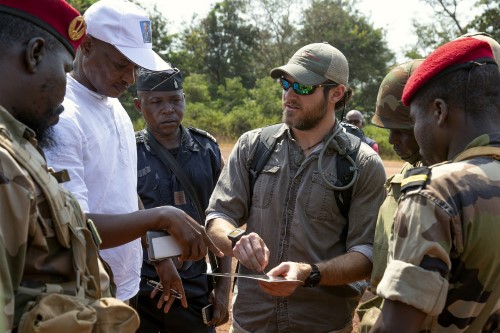 Discussing the plan with Jonas
BooBoo's contacts from his time in Obo put him in touch with just the ideal person – Jonas, a Special Advisor, and friend, of the president.
Jonas not only secured us the required permissions and air permits, but also personally oversaw the mission to the extent of providing CAR soldiers to ensure our safety during the trip. As a newly elected and democratic government, they are seeking to encourage inward investment into the Central African Republic and the last thing they wanted was for us to come to any harm.
| | |
| --- | --- |
| Denial of flying permissions | |
| Secure fuel supply for helicopter | |
| Ambush by unfriendly forces | |
| Being taken hostage | |
| | |
| --- | --- |
| Injury during jungle trek | |
| Local wildlife: cats, snakes, bees | |
| Daylight hours and Government curfew | |
The Final Expedition
The final plan, and the one which we followed was this:
Fly from London to Bangui via regular scheduled flights. Stay in Bangui overnight and take a private charter down to Obo along with Jonas who would smooth tings over with the local officials and coordinate our military bodyguards.
The helicopter would arrive in obo the night before we arrived to scout the area. We would then cross-load into the helicopter with two flights for the actual infill. The first would take one of our advisors along with three soldiers to secure one of four designated landing spots, unknown to anyone outside of the group. The second would take us, our second advisor and a final soldier to begin the expedition.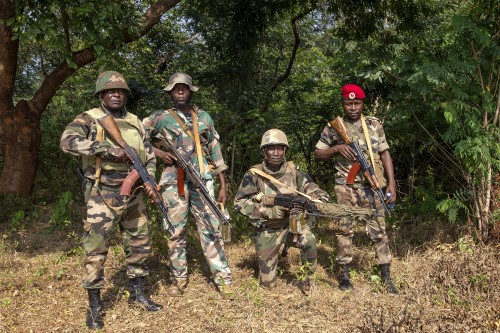 Central African Republic Soldiers for the main expedition
A trek through the jungle would be required and the helicopter would hover above us outside of small arms reach, as we moved, providing a modicum of a deterrent and a way of emergency evacuation.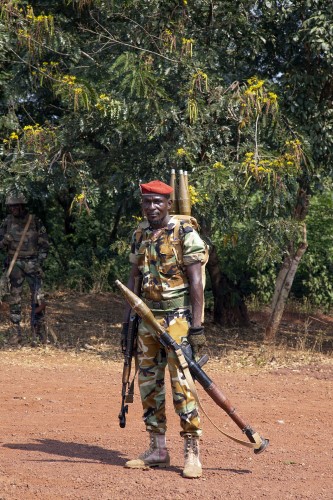 "No RPGs on the Heli"
After successfully reaching the African Pole of Inaccessibility and becoming the very first people to reach that point, we would trek out of the jungle in another direction to a different extraction point in order to reduce the chances of an ambush. Time would be of the essence, because of the helicopter fuel levels and the fact there's a flight curfew over the whole country (for getting back to Bangui before darkness.)
Even though the perceived wisdom is that no plan survives contact with the enemy, everything went remarkably smoothly and exactly to plan. You can read more about the timings and the position of the Pole of Inaccessibility here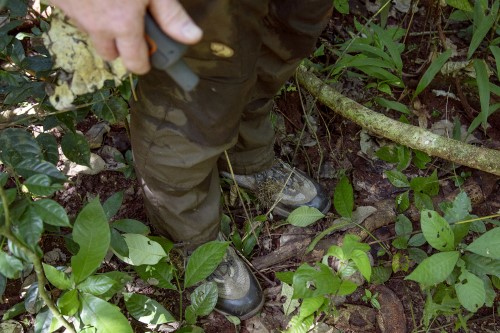 Standing at the Centre of Africa
5°39.0'N, 26°10.2'E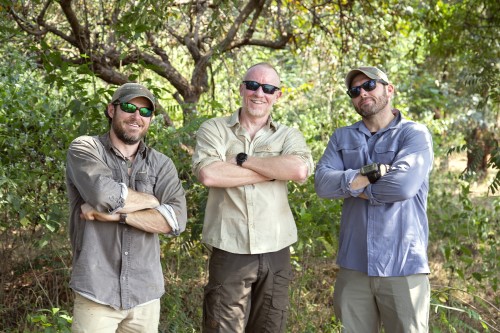 Centre of Africa Expedition Team
Chris (centre) with Special Forces Operators, BooBoo and BamBam